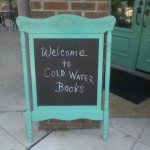 Stop by and visit me at Cold Water Books! Saturday, September 22nd from 10 – 12pm in beautiful downtown Tuscumbia, Alabama. We'll have a giveaway and a few extra goodies for you, so drop by and say, Hi!
I hope to see you then, friends.! ~ Blessings, Annie
I love their new sign! It's made from a salvaged baby bed headboard. Good job on the project, Sandi. Great paint job, too!